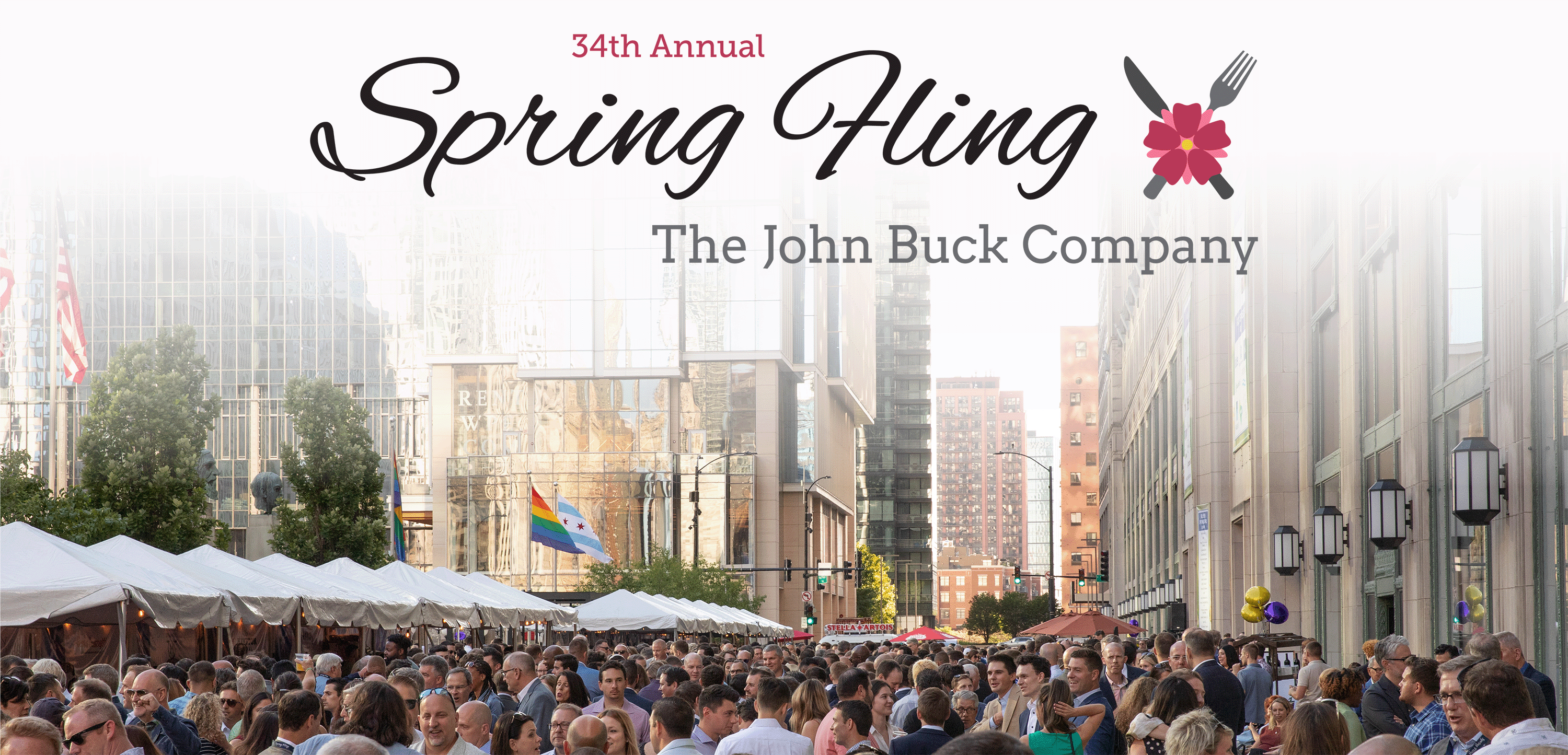 ABOUT SPRING FLING
It started as a small gesture among friends. In 1988, John Buck and several founding partners found themselves at a beer garden one sunny spring day. Not wanting to totally waste the afternoon, John suggested they make the outing a charitable function. Everyone put $50 into a baseball cap, then wrote their favorite youth or education program on a slip of paper and put it in a second cap. The moment a waitress pulled the winners, Spring Fling was born.
Today, The John Buck Company's Spring Fling stands as the premier charity celebration in the Chicago Real Estate community. Over the past 30 years, Spring Fling has raised 1,800 attendees annually.
2023 Spring Fling 50/50 Raffle Winner
A Special Thank You to Our 2023 Sponsors
Diamond Sponsor ($25,000)
Platinum Sponsors ($10,000)
AMS Industries, Inc.
Berglund Construction
Chicago Title Insurance Company
Clune Construction Company
Draper and Kramer, Inc.
Duane Morris LLP
Environmental Systems Design, Inc.
Flooring Resources Corporation
Gibson Electric & Technology Solutions
Harley Ellis Devereux
HOK
Interior Alterations, Inc.
Interior Construction Group, Inc.
J.P. Morgan Commercial Real Estate
Locke Lord
Otis Elevator
Pepper Construction
Perkins&Will
Power Construction
PwC
Stantec Architecture
Taft Law
Titan Electric
UG2
Wright Heerema Architects
Admiral Heating & Ventilating Inc.
Advanced Fire & Security Systems, Inc.
Alumitec Ltd.
Anchor Mechanical, Inc.
Aspen Commercial Painting, Inc.
Centrio Energy
Cohesion IB, Inc.
Conway & Mrowiec
Cullen Construction Management
Door Service, Inc.
Epstein
Fifth Third Bank
Flood Brothers Disposal
FOCUS
Fox, Swibel, Levin & Carroll, LLP
Ginsberg Jacobs
Golub & Company
Harvard Maintenance
Hoerr Schaudt Landscape Architects
Infralinc
Jenkins + Huntington
Kastle Systems
Katten Muchin Rosenman LLP
Keller North America
Magnusson Klemencic Associates
McHugh Construction Company
Neal & Leroy, LLC
Near North Title Group
North American
Performance Wealth Partners
Pierce Engineers
Project Management Advisors, Inc.
Proven IT Business Systems
Racer | MRSA Design Studio
Rolander Interests, LLC
Stone Installation & Maintenance, Inc
Swinerton
Tremont Realty Capital
Urban Real Estate Research
Zentro (formerly Everywhere Wireless)
Breakthru Beverage Illinois
GMSC Security
Hammerschlag
United Radio Communications